Follow Your Favorites!

Sign in
to get custom notifications of new products!
Featured Product
Pixel Loot - Dungeon Maker
by Endymion Games

Dungeon Maker features 50 unique cards, each with a series of four interchangeable plot hooks. Drawing 4 cards and linking these hooks together will fill in the backstory for a random dungeon, and may even provide a motivation to explore it. More importantly, it gives you a series of ideas to trigger your own inspiration, keeping your stories fresh and your players engaged!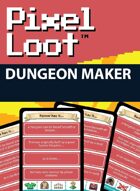 | Products found in this section... | Sort by: |
| --- | --- |
| | | |
| --- | --- | --- |
| Title ▲ | Publisher | Price |
| Additional dragon cards for Deck100! Add these to your Deck100 products to activate house rules. One each black, blue, red and gold dragons. This product is printed on premium card stock described by this site as follows: Premium: 11.8-pt. thickness, 305gsm black core card stock from French paper manufacturer Arjo-Wiggins.... [click here for more] | Nocturnal Media | $0.99 |
| Four cards featuring just the beautiful dragon art from Deck100. One card each for the black, blue, red and gold dragons, featuring the dragon artwork on both sides of the cards (no Deck100 logo). This makes the cards useful in any deck for house-rules purposes, or they can be added back to any Deck100 deck for similar purpose. Or just enjoy these... [click here for more] | Nocturnal Media | $0.99 |
| Fitzhywel's Fantastical Paraphernalia: Townsfolk and Villagers 50 unique NPC cards Each card has a vivid portrait on one side to show your players and fire their imagination. The other side contains information to bring the character to life as well as plot hooks to kick-start amazing and unexpected... [click here for more] | Michael Fitzhywel | $7.99 |
| Pixel Loot is a series of treasure card decks for use in any fantasy-themed table-top role-playing game. Each card represents a different item, with a name, picture, flavor text, and game stats (cost and weight, compatible with 3.5, 4e, 5e, and Pathfinder). There are a variety of unique items in each deck (40 in this set), intended for DMs to randomly draw when creating loot for their campaigns, or... [click here for more] | Endymion Games | $4.00 $1.99 |
| Pixel Loot is a series of treasure card decks for use in any fantasy-themed table-top role-playing game. Each card represents a different item, with a name, picture, flavor text, and game stats (cost and weight, compatible with 3.5, 4e, 5e, and Pathfinder). There are a variety of unique items in each deck (40 in this set), intended for DMs to randomly draw when creating loot for their campaigns, or... [click here for more] | Endymion Games | $3.49 $2.99 |
| Pixel Loot is an ever-expanding series of treasure cards decks and dungeon master tools for use in any fantasy-themed table-top role-playing game. Each treasure card represents a different item, with a name, picture, flavor text, and game stats (cost and weight, compatible with 3.5, 4e, 5e, and Pathfinder). There are a variety of unique items in each deck (20 in this set), intended for DMs to randomly... [click here for more] | Endymion Games | $1.99 |
| Pixel Loot - Curious Effects features 30 unique cards, each with a different effect that can be applied to any item. As a dungeon master, you can use Curious Effects on pretty much anything your players find in a dungeon or chest. The effects range from magical to mundane, from magical properties to annoying odors. Some effects are readily apparent, and you can hand the player... [click here for more] | Endymion Games | $2.99 $2.49 |
| Pixel Loot - Dungeon Maker features 72 unique cards, each with a series of four interchangeable plot hooks. Drawing four Dungeon Maker cards and linking these plot hooks together will fill in the backstory for a random dungeon, and may even provide a motivation for your characters to explore it. More importantly, it gives you a series of ideas to trigger your own inspiration, keeping... [click here for more] | Endymion Games | $3.49 $2.99 |
| Pixel Loot is a series of treasure card decks for use in any fantasy-themed table-top role-playing game. Each card represents a different item, with a name, picture, flavor text, and game stats (cost and weight, compatible with 3.5, 4e, 5e, and Pathfinder). There are a variety of unique items in each deck (20 in this set), intended for DMs to randomly draw when creating loot for their campaigns, or... [click here for more] | Endymion Games | $3.49 |
| Pixel Loot is a series of treasure card decks for use in any fantasy-themed table-top role-playing game. Each card represents a different item, with a name, picture, flavor text, and game stats (cost and weight, compatible with 3.5, 4e, 5e, and Pathfinder). There are a variety of unique items in each deck (18 in this set), intended for DMs to randomly draw when creating loot for their campaigns, or... [click here for more] | Endymion Games | $2.00 $0.99 |
| Pixel Loot is a series of treasure card decks for use in any fantasy-themed table-top role-playing game. Each card represents a different item, with a name, picture, flavor text, and game stats (cost and weight, compatible with 3.5, 4e, 5e, and Pathfinder). There are a variety of unique items in each deck (20 in this set), intended for DMs to randomly draw when creating loot for their campaigns, or... [click here for more] | Endymion Games | $1.49 |
| Update! As of August 2017, this deck now includes the 14-card expansion available originally on our Patreon, and a custom tuck box to fit the whole deck, at no extra cost! As the dungeon master, when your adventuring group leaves town and begins trekking to the next objective (whether it's another town or a distant dungeon), it can sometimes be difficult to come up with new ideas... [click here for more] | Endymion Games | $3.49 $2.99 |
| Pixel Loot is a series of treasure card decks for use in any fantasy-themed table-top role-playing game. Each card represents a different item, with a name, picture, flavor text, and game stats (cost and weight, compatible with 3.5, 4e, 5e, and Pathfinder). There are a variety of unique items in each deck (20 in this set), intended for DMs to randomly draw when creating loot for their campaigns, or... [click here for more] | Endymion Games | $1.99 $1.49 |
| Pixel Loot is a series of treasure card decks for use in any fantasy-themed table-top role-playing game. Each card represents a different item, with a name, picture, flavor text, and game stats (cost and weight, compatible with 3.5, 4e, 5e, and Pathfinder). There are a variety of unique items in each deck (20 in this set), intended for DMs to randomly draw when creating loot for their campaigns, or... [click here for more] | Endymion Games | $1.99 |
| They say that a picture is worth a thousand words... The Deck of Tales is a set of 120 card faces (not counting the instructions) that provide images as inspiration for story telling. Roleplayers, solo gamers, and authors can take advantage of 360 pictures, 240 unique combinations of symbols, and more! Those numbers may sound relatively small, but consider this: Relying solely on the primary pictures,... [click here for more] | Larcenous Designs, LLC | $4.99 |
| Download the Full Color rulesheet with "Publisher Preview" above. FINALLY IN PRINT AGAIN. THE CARD GAME CLASSIC. In WysaertZ you play Mages battling for the title of the Arch-mage! Enchant, fyreball and summon monsterz until you are the last mage standing! - MAGICKALLY QUICKE -... [click here for more] | Sangreal Games | $20.00 |